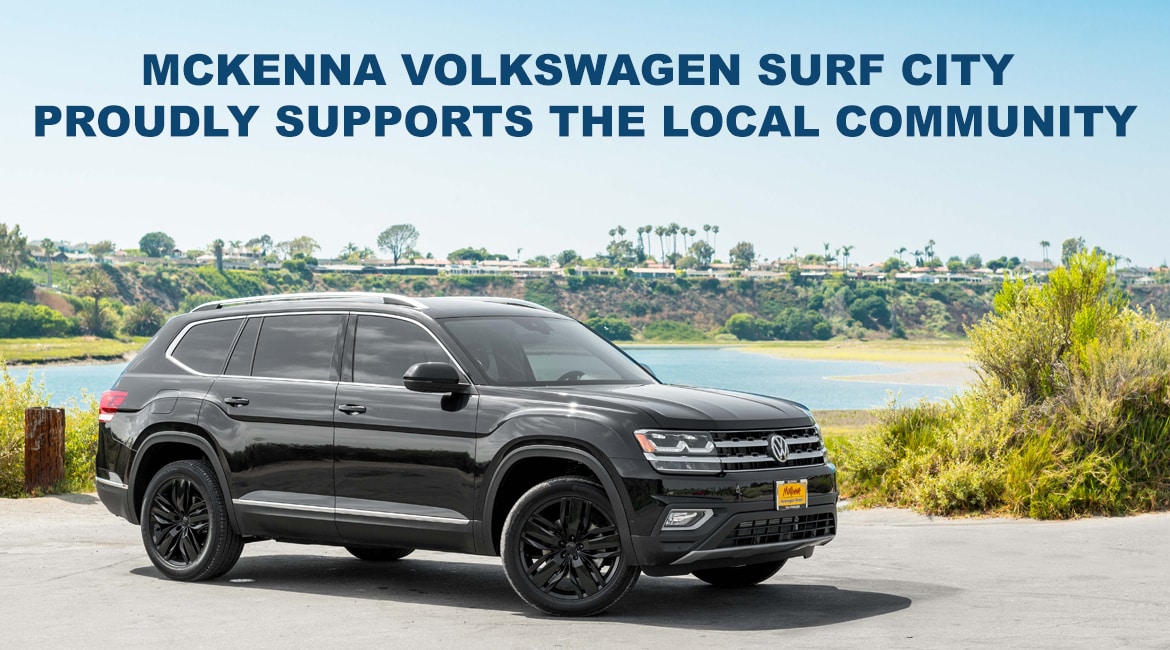 McKenna Volkswagen Surf City Community & Charity Events
McKenna Volkswagen - Environmental Support
At McKenna VW Surf City, we were startled to learn of the sharp decline of the wildlife in the United States. With wildlife declining by over 58% percent due to habitat loss, Subaru and the National Wildlife Federation are raising awareness of this important issue by creating over 400 new Certified Wildlife Habitats at local schools. Thus we were partnering with Hawthorne Academy of Math and Science and providing items needed to create a certified wildlife habitat in their schoolyard. We had a wonderful experience with all students and we're glad to make a little positive impact in this world.

Annual 4th of July Celebration in Huntington Beach
The tradition began on July 4, 1904, when Huntington Beach commemorated the arrival of the first electric passenger train linking the area with Long Beach and Los Angeles. The Board of Trade, a forerunner of the Chamber of Commerce, sponsored this first event, bringing 50,000 people to town to join in the day's celebration. Now, 113 years later McKenna Volkswagen Surf City is proud to be part of this special celebration in Huntington Beach.

McKenna Volkswagen Surf City - Partnership with Leukemia & Lymphoma Society
McKenna VW Surf City in Huntington Beach, California partnered with the local Leukemia & Lymphoma Society Chapter in Orange County Inland Empire to deliver blankets to cancer patients at a local hospital on July 6. McKenna VW staff met with the hospital's cancer center patient navigator to learn about how patients are provided with care, linkages to services and referrals. Subaru and LLS staff delivered blankets, craft kits and other items to hospital staff for distribution to cancer patients visiting the facility. As a result of the blanket delivery, VW staff learned about the patient services provided to the local community through LLS and the hospital and are currently discussing hands-on volunteer opportunities for staff at the VW dealership!

McKenna Volkswagen Surf City Surf Dog Event
We are proud to be the main sponsor of the McKenna Volkswagen Surf City Surf Dog competition, the world-famous premier event on the dog surfing circuit that is held annually in late September in Surf City USA. The event brings together the community, surfers, dog lovers, families & pets for a day of fun and "fund"raising at one of Southern California's most pristine beaches - Huntington Dog Beach! More than 70 'pawticipants' and international 'surFURs' were competing for barking rights to claim the top dog honor and taking home the trophy.
"It's a natural fit," said Danny McKenna owner, McKenna Volkswagen Surf City, when asked about sponsoring Surf City Surf Dog. "We loves dogs and we love Surf City! We are proud to be a part of such an iconic Southern California event that combines our love for dogs, surfing and the outdoors. These people are our customers, families, and friends, so it makes good sense for us to help support the cause. It's great having both the McKenna and VW brands participate in such an action-packed weekend filled with doggone fun."

McKenna VW Surf City - Partnership with El Sol
Here at McKenna, we know our future lies in the next generation's hands. We want to make an impact in our community and together all of us can ensure that every student has the same chances available to them in school. Thus we partnered with El Sol Science & Arts Academy of Santa Ana and donated award-winning science books to their students. It was overwhelming to see the happy faces of the students when we delivered the books.

McKenna VW Surf City - Partnership with OC Humane Society in Huntington Beach
One of our favorite things about living in SoCal is how pet-friendly this area is. Someone is always willing to help you search for your lost dog or take in a homeless cat, and you can find just as many four-legged friends perusing the booths at the Farmer's Market as you can two-legged ones. It's refreshing to see the community come together to help our furry family members, and it's people like you that make us feel like we really can make a difference, together. Volkswagen loves pets too and it's all about returning the love that our animals give to us so generously. At McKenna VW Surf City, we've teamed up with the local animal rescue organization "OC Humane Society" and provided pet supplies for the shelter.

Huntington Christian School Jog-a-Thon
McKenna VW Surf City was a proud sponsor of the 2017 Jog-a-Thon at the Huntington Christian School in our ongoing commitment to the Huntington Beach community. Students were running, walking, jogging to raise money which was used to enrich students' education with upgraded technology and software.

Dear Santa Holiday Event
In December, McKenna Volkswagen Surf City had a "Dear Santa" letter writing contest and it was a huge success! Two deserving local families won $1500 and the runner up won $1000 for their heart-warming letters to the big guy in the red suit. The contest was judged by Vice President & General Manager, Tam Nguyen who presented checks to the winners on Thursday, December 14th. Santa and the McKenna VW Surf City "Hula Girl" also made an appearance during the presentation to add to the fun! Jack FM was on hand to help pass out holiday gifts for the kids and everyone had a great time.