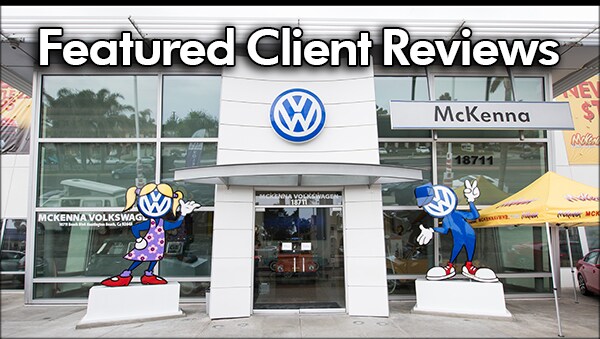 At McKenna Surf City Volkswagen we pride ourselves on providing high-quality customer service. We strive for our core values to come through to every customer: community, integrity, honesty, loyalty, and family. Some kind words from past and current customers regarding their experience at McKenna Surf City VW can be found below.
Want to share your experience at McKenna Surf City VW with future customers?



Connie and Joel B., proud VW Jetta owners
Lee - I want to tell you how much we appreciate your help with getting the Jetta for our daughter.  You made the whole purchase experience, from beginning to end, enjoyable. You guided us through the different options, gave us the information we needed to make a sound decision and best of all, made me a deal that I can't refuse. I have bought many cars through many different dealerships, you are definitely one of the best.  I hope that McKenna recognizes your contribution in upholding their reputation and maintaining their success.  I am happy with my purchase and glad to have you as our sale rep.  You now have a fan and customer for life.  I will tell others about my experience and recommend McKenna to my family and friends.
PS. Jeff Garcia was pretty awesome too!!!  Thank you all.
Jordan H., proud VW Beetle owner
Went to Mckenna Volkswagen in Huntington Beach today to buy a new car after totaling my old one! This was the first spot on our presumed to be miserable day of shopping. Within less than and hour we found, test drove, and got a really great deal on beetle which was exactly what I wanted! Martin was our salesman and he was awesome! We told him what we needed and he made it happen! Will be returning here in the future to buy more cars!
Samantha W., proud VW CC owner
Got my CC from here and I am SO happy!!  Everybody was extremely friendly, and as a single mom, I was very nervous about being taken advantage of. Tam Nguyen was great at helping me figure out what everything meant and made sure it was all within my budget. Didn't feel pushed into anything and I got more than what I was expecting. Have already recommended them to several friends and will be back when my son is ready for his first car. Thank you to everybody at McKenna HB for making the experience as painless as possible.
Catherine C., proud VW owner
I was so nervous for my first car buying experience and Alexis did such a great job at easing me into the process. She was so patient with the fact that I had no clue what I was looking for. She answered all my questions thoroughly. She continues to help me look for the perfect car that fits right in my price range. I haven't bought a car yet and I plan on going back to look at more cars instead of going anywhere else to shop around. There is no pressure and I know I can take my time and shop around at my own pace. Dean was also a big help. He is a straight shooter! No tricks, or shady dealings. Such a great team at McKenna!
Michael R., proud 2015 VW Jetta owner
Fantabulous!!

I currently get my 2012 Passat TDI SEL serviced by Roland Wheaton the best serviced advisor you could ask for. He's trustworthy and a professional.  

Roland and Chris (Service Tech) in the service department make bringing my vehicle to the dealer for service a pleasure.  

I never thought a service department outside of fletcher jones would provide such stand up wonderful service.  

Yesterday my wife's car died. I immediately went to McKenna today and looked for a car because of the service and respect I get from Roland. If you need a service advisor he's the one!!

Additionally Stan Johnson is the man!! Young super respectful young man helped my wife and I today with no pressure and nothing more than a pleasant experience buying our 2015 Jetta.  

Because of Roland and Stan, today was a fantastic and wonderful experience.  

Thank you gentleman.  
Mason R., proud 2015 VW GTI SE owner
Tina is the absolute best. I went there first to check out the new GTIs. She did an excellent job of showing me all the options and features of the trims.  She was very cool and down to earth about the negotiation process for price. After getting one other bid from a competitive dealer, I elected to go with Mckenna because of Tina and how she was able to get me the only 2015 GTI SE in the blue color I wanted. They worked tirelessly for me and I am every bit as satisfied as I can be. 

THANK YOU TINA!
Heike S., proud VW owner
Picked up my 5th VW today. Another great experience!!! Danny Manor always makes car buying easier. He is very knowledgable and explains everything before I leave. The financing was easy and fast too. Thank you, Danny!!!! I will be back :)
Sophia K., proud VW owner
So we visited Volkswagon today and started to look at cars. Thats when we met Romy! Oh man talk about great friendly fun service! Romy puts the best of Volkswagon in his service. He was not just helpful but informative. He did what he could could to help us in anyway. Not only did he get us into a car and he got us a great deal and set us up right. 
We Love Volkswagen!
Thank You so much Romy and the Volkswagen team! See you again soon!
Tracey S., proud 2014 VW Jetta SE owner
My husband bought me a new 2014 Jetta SE. Our sales person was Alexis Lezin. I was thoroughly impressed by her knowledge of the vehicle. My husband is a mechanic by trade and every question he had she was able to answer. The sales manager Dean was very helpful and made every bit of our car buying process go extremely smooth. After having the car for a few days  Alexis called us to see how everything was going. Any concerns we had she addressed. Thank Mckenna And thank you Alexis for your professionalism.
L S., proud VW Tiguan owner
I went in to buy a Tiguan and it was the best car buying experience. Dean the salesman was professional and I didn't feel pressured at any moment. I was really nervous about buying a new car because of the usual back and forth but this experience was different. Tom, the sales manager was thorough about the whole transaction and made things quick and painless for me as a first time buyer. I love my Tiguan and definitely recommend buying a car from this team!