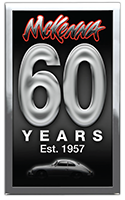 60 Years of McKenna…
…isn't just celebrating an Anniversary, it's the perfect opportunity show our gratitude to all of our customers. Since our start in the 1950's, the auto industry has changed a lot, but our commitment to our customers remained the same - serving the community with premium cars, uncompromising service & the best possible prices available. We are excited for the future and to continue serving our customers and communities to their fullest satisfaction.
Every car purchased comes with McKenna V.I.P. Benefits.